I just read a really interesting interview with South Australian Photographer Ian North, on ASX website. I have been eager to find out about contemporary Australian photographers, as most of my reading is very UK or USA focused. There is something about knowing someone works in the same part of the world that is appealing and interesting to me.
He captures landscapes that are quite familiar and yet foreign at the same time. The simplicity of the framing and slight imperfections are interesting (Gesalt is mentioned – the example below has a power line cutting through the top right corner, I would have cropped it out, and yet it gives the image form and draws the eye in). His use of light is mentioned also – something that I continue to challenge here in Australia – the light is just so strong and harsh and needs to be used carefully. The strong shadows in these images add a three-dimensional feel. The subject matter is simple and everyday – the kind that interests me personally. I find his work truly inspirational and I know it will help me find my own subject matter as I continue on in my studies.
"My concern was not to dwell on that banality but to capture gestalts, these concatenations of built form and nature, especially the wonderful skies, which formed coherent wholes"
(

www.americansuburbx.com, 2012)
Felicia 16 (Goolwa, Fleurieu Peninsula), 1976
from the ASX website for personal study purposes
He has also worked in Canberra, documenting the streets around the small city, and the interactions between the wilderness and suburbia. Some images are shown on the NGA webs
ite here. And I have copied a couple below that are reminiscent of my own images that I will present for my final assignment. The same brilliant skies and similar framing of the houses with trees – the interaction between home and nature appears to be an interest of North.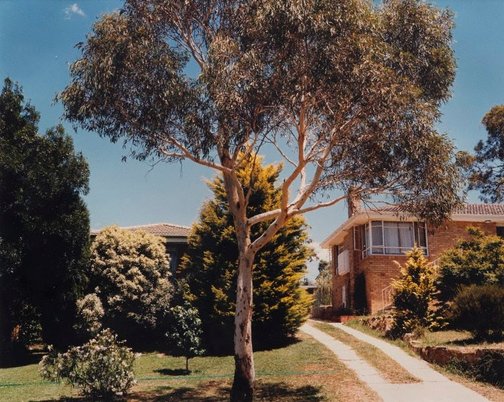 Canberra suite no. 17, from the series Canberra suite 1980-81, from the Art Gallery of NSW for personal study purposes
From the
NGA website (my highlights):
North's methodology is concerned with the processes of vision and interaction as they have shaped the landscape.

In 'Canberra Suite' North presents an encyclopaedic record of Walter Burley Griffin's intricately designed city, exploring the spatial interface between nature and humanity. The works are absent of human life – reminiscent of Ed Ruscha's 'Twenty-six Gasoline Stations'.

The emotional ambivalence of the images is reflected in their use of colour, like that of postcards. As one of the first instances of larger format colour art photography in Australia, the images topographically map space as a depersonalised, banal subject.

Yet their colour, like that of landscape painting, highlights flora, revealing the number of non-native plants included in Canberra's design. As such, these artefacts of North's private wanderings and systemic mode of looking are able to subtly critique colonialism.
I will continue to research this interesting artist, I share an interest in both his work and driving inquiry.
References:
De Almeida, P (2012) ASX Website. Online, available at: http://www.americansuburbx.com/2013/04/interview-a-conversation-with-ian-north-2012.html [Accessed 27/06/13]
Art Gallery of NSW Website. Online, available at: http://www.artgallery.nsw.gov.au/collection/works/?group_accession=180.2010.1-8 [Accessed 27/06/13]